Welcome to the Official Website for the Taneytown Volunteer Fire Company
FOR SALE
1989 HAHN PUMPER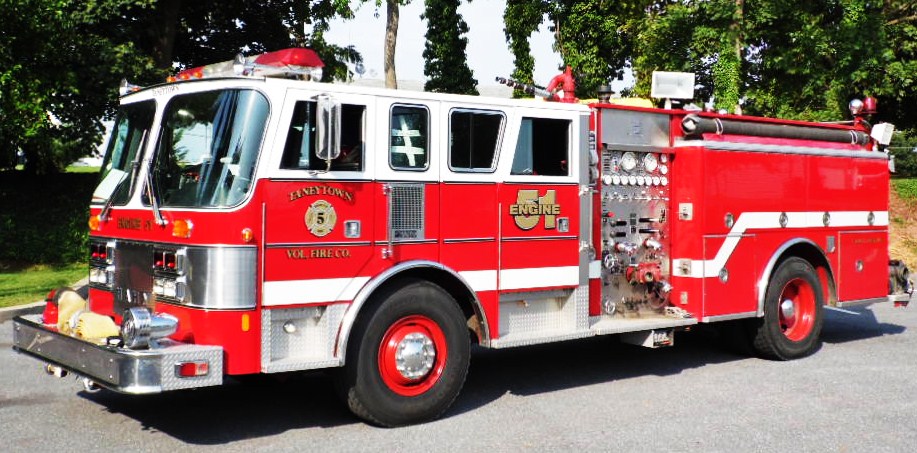 This unit currently running as E-51 is for sale. The unit is equipped with a Detroit 8V92 445HP motor that currently has 30,511 miles and 990.3 hours(as of 9/30). The transmission is an Allison HT-740 4 speed automatic. It is equipped with a Hale 2-Stage 1000gpm pump and has a 750 gallon tank. The generator is an Onan Diesel 7.5kw that supplies power to (4) 1500 watt floodlights and a 200' electric cord reel which will go with the truck. Additional equipment that will be sold with the truck include: 28'extention, 16' roof, and 10' folding ladders, (2) 5" by 10' hard sleeves, deck gun, and 900' of 5" LDH. Deminsions of the truck are, L 31'3", H 10' and Wheelbase of 192". GVW is 43,540 total with 16,540 front axle and 27,000 rear axle. The asking price for this unit is $30,000 and any inquiries may be made to Chief Craig Austin @ 443-271-2684.

Santa Claus Is Coming To Town!!

OFFICER Craig Bare, November 28

Santa Claus will becoming to visit the Taneytown Area December 10th - 14th.

He will start on Tues. Dec. 10th by visiting Carroll Vista, Detour, Keysville, and the Mayberry area.

On Wed. Dec. 11th he will visit W. Baltimore St., Harney Rd., Westview Dr., Memorial Dr., Pumphouse Dr., Reaverton Ave., Ridge Ave., Maryland Ave., Commerce St., York St., Frederick St., Allendale Ln., Fairview Ave., ... (Full Story & Photos)


Members Attend Heavy Vehicle & Machinery Rescue Class At Lehigh Cement Co.

OFFICER Craig Bare, November 11

More than a dozen firefighters attended the annual class sponsored by the Union Bridge Vol. Fire Co. They learned different techniques to remove trapped occupants of vehicles that have collided with large trucks, such as dump trucks, buses, and tractor trailers. The class was about 24hrs, and included a Friday night classroom session along with pratical sessions all day Saturday and Sunday. Rescue ... (Full Story & Photos)

TVFC Holds Drill On Ladder Pipe Operations

OFFICER Craig Bare, October 14

On the evening of Monday September 30th, members of the Taneytown Volunteer Fire Company held a drill in which several operational skills were practiced, including drafting, pumping and ladder pipe operations. Pics by FF Terry Dawson.... (Full Story & Photos)

Your feedback is important to us! Feel free to sign the guestbook.