National Weather Service Alerts for Carroll County, MD
Welcome to the Official Website for the Taneytown Volunteer Fire Company
FOR SALE
JUST REDUCED TO $15,000
1989 HAHN PUMPER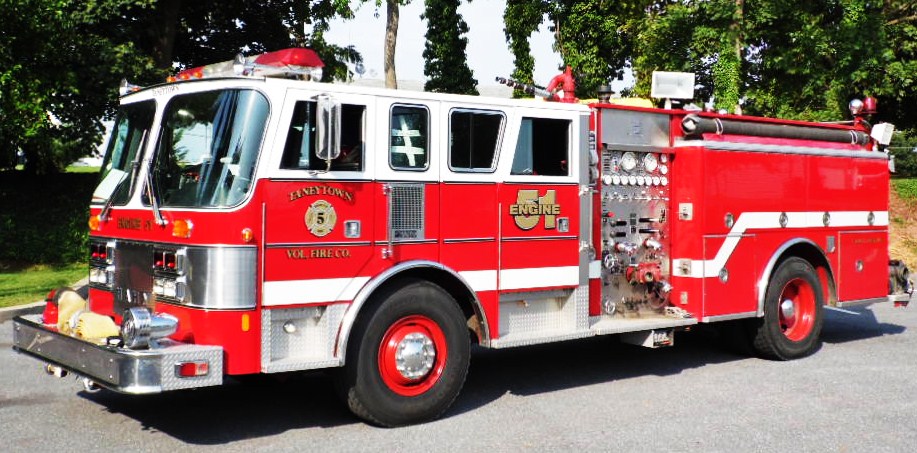 This unit is currently for sale. E-51 was retired in Jan. 2014. The unit is equipped with a Detroit 8V92 445HP motor that currently has 30,689 miles and 990.3 hours(as of 2/14). The transmission is an Allison HT-740 4 speed automatic. It is equipped with a Hale 2-Stage 1000gpm pump and has a 750 gallon tank. The generator is an Onan Diesel 7.5kw that supplies power to (4) 1500 watt floodlights and a 200' electric cord reel which will go with the truck. Additional equipment that will be sold with the truck include: 28'extention, 16' roof, and 10' folding ladders, (2) 5" by 10' hard sleeves, deck gun, and 900' of 5" LDH. Deminsions of the truck are, L 31'3", H 10' and Wheelbase of 192". GVW is 43,540 total with 16,540 front axle and 27,000 rear axle. Any inquiries may be made to Chief Craig Austin @ 443-271-2684.

TVFC To Hold Crab Feed

OFFICER Craig Bare, September 25

Come out and support the Taneytown Vol. Fire Co. at its first Crab Feed. The event will be held on Saturday Oct. 4th from 1-5pm. See flyer for more details and ticket info.... (Full Story & Photos)

TVFC Responds To Injured Person Resulting In Flyout

OFFICER Craig Bare, August 14

On Thursday Aug. 14th just after 1pm. P59 responded to an injured person. Subject was struck by a tree during the removal process from a wooded area. P59 then requested additional manpower and apparatus for the landing site for Trooper 3. IVT 58 on the air, R5 responded to assist. Subject was flown to Shock Trauma for treatment.... (Full Story & Photos)

TVFC Rescues Teens Stuck In A Tree

OFFICER Craig Bare, August 08

On Saturday Aug. 2nd at 11:45 am units from Station 5, M89, RS 8 (Union Bridge), and the Carroll County ATR team was dispatched for two kids trapped in a tree. Ladder 5 arrived to find two teens stuck in a tree after a branch they used to climb up had broken off, stranding them in the tree. Lt. 5-1 initiated the command and L5 was placed into position to assist in removing the teens from the tree. ... (Full Story & Photos)

T.V.F.C. Says Thank You!!

OFFICER Craig Bare, June 23

The Taneytown Vol. Fire Co. would like to thank those that came out during the 2014 Fireman's Carnival. While mother nature didn't exactly cooperate some nights during the carnival, some still braved the weather to come out and enjoy some delicious food. Money raised during the week long event goes back into the community by paying for equipment and apparatus to protect the citizens of Taneytown ... (Full Story & Photos)

Your feedback is important to us! Feel free to sign the guestbook.