Welcome to the Official Website for the Taneytown Volunteer Fire Company
FOR SALE
1989 HAHN PUMPER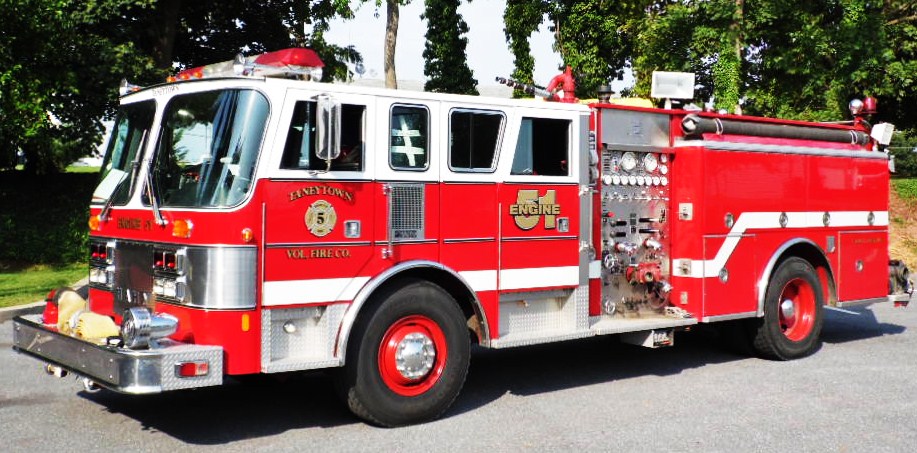 This unit is currently for sale. E-51 was retired in Jan. 2014. The unit is equipped with a Detroit 8V92 445HP motor that currently has 30,689 miles and 990.3 hours(as of 2/14). The transmission is an Allison HT-740 4 speed automatic. It is equipped with a Hale 2-Stage 1000gpm pump and has a 750 gallon tank. The generator is an Onan Diesel 7.5kw that supplies power to (4) 1500 watt floodlights and a 200' electric cord reel which will go with the truck. Additional equipment that will be sold with the truck include: 28'extention, 16' roof, and 10' folding ladders, (2) 5" by 10' hard sleeves, deck gun, and 900' of 5" LDH. Deminsions of the truck are, L 31'3", H 10' and Wheelbase of 192". GVW is 43,540 total with 16,540 front axle and 27,000 rear axle. The asking price for this unit is $25,000 and any inquiries may be made to Chief Craig Austin @ 443-271-2684.

TVFC Responds To Single Vehicle Collision

OFFICER Craig Bare, March 07

At 06:11 on Friday March 7th, units were alerted for a vehicle collision on Taneytown Pike in the area of Baptist Rd. Units arrived to find a single vehicle off the roadway overturned. The occupant had self extricated themself prior to our arrival. Units were only on the scene for a short time. Photos courtesy of FF Derek Parrish.... (Full Story & Photos)

TVFC To Hold Annual Toy Auction & Show

OFFICER Craig Bare, March 04

Don't forget this weekend!!
Our annual Toy Auction & Show will becoming up on March 7th, 8th, & 9th, 2014.
NEW THIS YEAR!!
Friday March 7th Auction 6-9 pm
Saturday March 8th Auction starts @ 2 pm
Sunday March 9th Toy Show 9am-2pm. Admission for the show is $3.00, children under 12 is free.
This event is being held at the Taneytown Fire Co. Carnival Grounds
49 Memorial Dr. Taneytown, MD 21787

CHECK ... (Full Story & Photos)

Rescue 5 Runs Its First Rescue Call

OFFICER Craig Bare, February 04

On Sunday February 2nd, R-5 was alerted for a vehicle collision with entrapment in the 5100 blk of Francis Scott Key Hwy near the state line. Adams Co. R-20 was also dispatched on the call. Units arrived to find a single vehicle into a tree with one person trapped. Trooper 3 was requested to assist on the call. The two rescue units worked in tandem to free the subject from the vehicle. Pt. was ... (Full Story & Photos)

SHRIMP FEED

FIRE/EMS Derek Parrish, January 31

COME OUT AND SUPPORT THE FIRE COMPANY AT OUR ANNUAL SHRIMP FEED. SATURDAY, MARCH 15TH 7:00PM-9:00 PM ALL YOU CAN EAT SHRIMP, FRIED CHICKEN, BAKED BEANS, POTATO SALAD, MACARONI SALAD, CHIPS, PRETZELS, AND DESSERTS SODA, WATER, AND BEER $25.00 PER PERSON LOCATION: FIRE COMPANY CARNIVAL GROUNDS CONTACT ERIK (443) 968-6545 FOR MORE INFORMATION OR TICKETS!... (Full Story & Photos)

Ladder 5 Assist New Windsor On House Fire

OFFICER Craig Bare, January 25

On the evening of Friday January 24th units were dispatched for smoke in a house in the 1200 blk of Coe Dr. Units arrived to find the house full of smoke and requested the RID assignment. L-5 was the only unit from Taneytown to assist with the fire. Fighting the fire was hampered by the severe cold and icy conditions. Personnel were evacuated several times to regroupL-5 was on the scene for approximately ... (Full Story & Photos)

Your feedback is important to us! Feel free to sign the guestbook.