Welcome to the Official Website for the Taneytown Volunteer Fire Company
FOR SALE
1989 HAHN PUMPER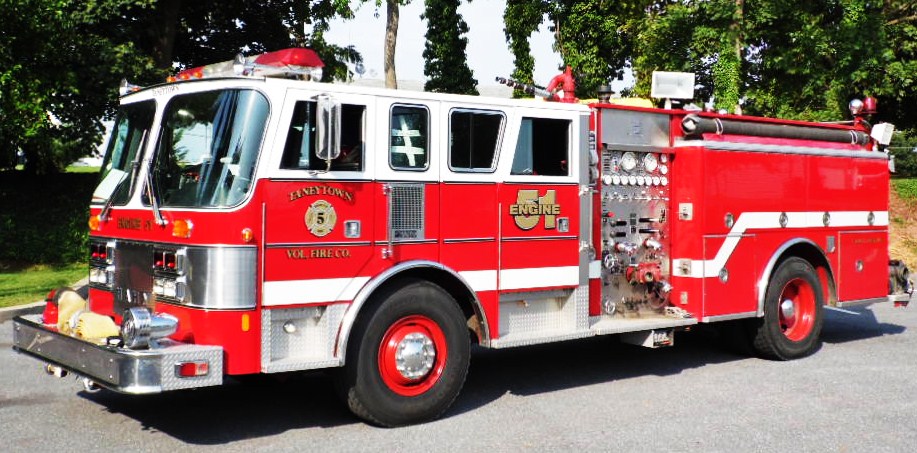 This unit is currently for sale. E-51 was retired in Jan. 2014. The unit is equipped with a Detroit 8V92 445HP motor that currently has 30,689 miles and 990.3 hours(as of 2/14). The transmission is an Allison HT-740 4 speed automatic. It is equipped with a Hale 2-Stage 1000gpm pump and has a 750 gallon tank. The generator is an Onan Diesel 7.5kw that supplies power to (4) 1500 watt floodlights and a 200' electric cord reel which will go with the truck. Additional equipment that will be sold with the truck include: 28'extention, 16' roof, and 10' folding ladders, (2) 5" by 10' hard sleeves, deck gun, and 900' of 5" LDH. Deminsions of the truck are, L 31'3", H 10' and Wheelbase of 192". GVW is 43,540 total with 16,540 front axle and 27,000 rear axle. The asking price for this unit is $25,000 and any inquiries may be made to Chief Craig Austin @ 443-271-2684.

TVFC To Hold Coin Auction

OFFICER Craig Bare, April 16

The Taneytown Vol. Fire Co. will be holding a coin auction on Saturday May 3rd at 1pm. Preview for the auction will start at 10am. A list and some pictures of the coins available are attached to the full story.... (Full Story & Photos)

TVFC To Hold Annual Golf Tournament at Mountain View

OFFICER Craig Bare, April 16

The annual golf tournament to benefit the Taneytown Vol. Fire Co. will be held on Friday May 2nd at Mountain View Golf Course in Fairfield. The tournament will have a 2pm shotgun start. Interested teams can print off the registration form, fill out, and return to the station via the info. on the registration form.... (Full Story & Photos)

TVFC Has Busy Sunday Afternoon Answering Calls

OFFICER Craig Bare, April 07

At about noon on Sunday units from station 5 were dispatched for a field fire in the 3800 Blk of Bert Koontz Rd. Upon arrival units found a brush pile that had gotten out of control due to windy conditions. Additional resources were requested from the Alpha Fire Co. (Littlestown) and Pleasant Valley Fire Co. Units were on the scene for approximately two hours.

Then at approximately 3:30pm Ladder ... (Full Story & Photos)

Your feedback is important to us! Feel free to sign the guestbook.